Just recently I evaluated 3 EHR systems (AllScript, NextGen and eClinical) and will gradually dump my notes into individual reports for each one.
NextGen (by Quality Systems (NASDAQ:
QSII
)) provides an all-in-one solution, including PM, EMR and Billing.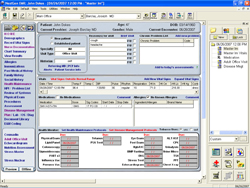 Among the three, NextGen has the best user interface. It is intuitive and easy to use.
The visual aid helps physicians to point and click their way through an entire exam.

NextGen EMR is completely integrated system and supports different specialties. It has a large selection of pre-built templates to help automate the workflow.
Having said that, the product philosophy is that you will like the pre-built templates as they are. Adjustments are possible but that is relatively hard and would require engineering support.
For example on HPI screen symptoms are listed as check-boxes in comparison to decision-tree-style selection lists that are used by many other vendors.
This is presented by NextGen sales as a competitive differentiator that removes the restrictions of sequential questioning needed in decision-tree pick lists.
NextGen EMR integrates with NextMD, which is the company's patient-provider portal that facilitates effective electronic interactions between the patient and the practice.
The NextGen product is written in Visual Basic and Visual C++ and uses MS SQL database and Active Domain. This implies an open architecture for custom developed extensions, such as integration adaptors and complex reports. NextGen has its own integrated word processing for creating/customizing letters and communication materials. The company is currently working on optional interface with Microsoft office.
General, Market, Technology, Vendors NextGen, Product Review