Product Review: eClinicalWorks
As part of my continuous EHR product review I recently evaluated AllScript, NextGen and eClinicalWorks.
To summarize among the three, I like eClinical the best. It is technically solid, and
provides a fully integrated platform, including PM, EMR and Billing.
However I think the User Interfaces are not as intuitive as they could be. I hope
the product manager will put some effort in optimizing the user experience.
That would motivate eClinical users in utilizing all the power under the hood.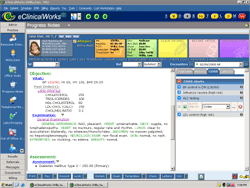 The system provides customizable templates per spatiality and provides a good
Clinical Decision Support System (CDSS).
The company started with smaller physician groups before targeting hospitals
and larger clinics. As such the product design is well suited for small offices.
In larger environments the community module allows patient records to
be shared between physicians (e.g. referrals).
My favorite feature is eCliniForms, which allows to scan in or create office forms
in the system (such as consent or hospital admission forms).
eCliniForms can be used to input data and integrate directly with patients' chart.
Following you can see a demo of eCliniForms:
In terms of pricing eClinicalWorks has 3 offerings:
- Traditional client server (you purchase the software license outright and data lives on a server in your office). The pricing is around $10,000 for the first physician, $5,000 for each subsequent provider. An annual support & maintenance license fee of 18% could apply, translating to about $200/month.

- Hosted model or ASP (monthly fee, data lives on a server at the vendor's facility). The pricing is around $500/month for the first provider, with discounts for subsequent providers.

- Lease or Subscription (monthly fee, data lives on your server in your office). $400/month for the first provider. It goes down around 10% per additional doc on the contract.
The above fees are for the combined EHR-PM product. More details can be found on their website:
They charge an additional $250/month for billing and scheduling and $25/month for e-prescribing. Training is between $500 to $750 per day plus travel expenses at $250/day.
Here is a Flash Demo of the product:
They recently partnered with Sam Club to sell eClinical EMR, in a packaged deal along with Dell computers to cover both software and hardware. More info here:
http://www.samsclub.com/health/
eClinicalWorks is opening an office in Pleasanton California before end of the year.